Computer Virus & Spyware Removal Experts of Fort Collins!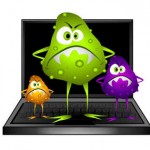 Our Computer PC Medic computer technicians are experts in removing computer viruses, adware and malicious software (malware). We will remove all computer malware from your Windows laptop, desktop and all-in-one computers. These malware can take the form of dangerous scare-ware, browser locking and encrypting ransomware.
During the virus removal process we will protect your precious data files, music and pictures. We will repair your Windows operating system, install missing security updates and a strong Internet security antivirus software. Our goal is to protect your computer against future virus attacks. We will educate you on how stay safe while on the Internet. What other computer company can say that?
If you suspect a computer virus, shut down your computer immediately and call us. Viruses can spread and cause increasing damage. Please do NOT try to remove viruses yourself!